IBERDROLA GERMANY
Leading Energy Group
30 million customers in 40 countries place their trust in our 100 years of experience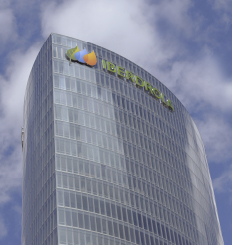 Iberdrola Tower, Headquarters in Bilbao, SpainIberdrola is a multinational energy supply company that owes its consistent growth to a combination of its 100 years of experience in the energy sector and its highly-qualified employees.
The integration of companies such as Scottish Power in the United Kingdom, Energy East in the USA or Elektro Electrididade e Serviçios in Brazil and a consistent strategy of growth has enabled Iberdrola to develop from a local business to a global business group.
Iberdrola is now regarded as an exemplary company within the international energy sector and is recognised for its international diversification and commitment to the area of renewable energy. The group's areas of activities include the generation, trade, distribution and marketing of electricity and gas.
This position has been achieved thanks to a sustained strategy of growth, supported by a target-driven management style, financial and technological strength and the involvement of a multicultural team of more than 33,000 people in 40 countries.
To find out more, visit the group's website www.iberdrola.com